Doorways of Dutchess County, Helen Wilkinson Reynolds, 1931.
p.203

(N)arcissus
(A)pron
(N)o
(C)radle
(Y)oung

(C)leopatra
(R)ose
(O)ak
(O)beron
(K)knowledge
(E)ve
Nancy Crooke (1768-1856) was the sister of John Crooke, who married Henry Livingston's first cousin, Cornelia Livingston, the daughter of Robert Gilbert Livingston, Jr. and the greatgranddaughter of Gilbert Livingston.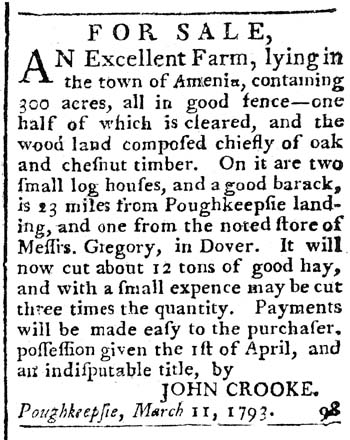 John and his sister Nancy moved to Poughkeepsie when they were small and grew up there. Their brother Charles died as a young adult having just bought a home in Poughkeepsie.
p.204
"Nancy Crooke married when she was nineteen and the event was recorded in the Country Journal, published at Poughkeepsie on April 25, 1787, in these words:"
"On the 17th inst. was married at New York Colonel William Barber, Commissioner of Army Accounts for this State, to the amiable Miss Nancy Crooke of this place, a young lady possest of every accomplishment to render the bands of matrimony agreeable."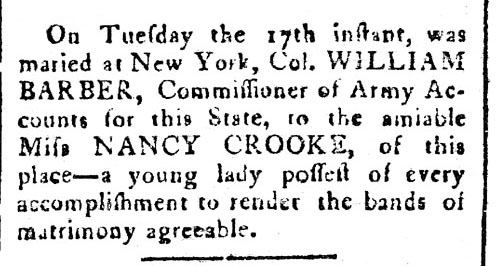 Colonel Barber ... "distinguished himself at Yorktown under LaFayette".
Following Colonel Barber's death, Nancy married an Englishman, William Broom. Financial reverses in 1823 made them leave their Crum Elbow home and Nancy was made a widow again in 1830.