Announced the day, if she saw fit
To take a tete-a-tete tit-bit:
The day arriv'd - She preen'd each feather
And summon'd ev'ry grace together;
At breakfast scarce a morsel eat
Intent to riot at the treat.
She came - Wide stood 'th unfolded door
And roses deck'd the sanded floor.
- There hyacinths in festoons hung
- Here lillies their rich fragrance flung.
The table drawn - The damask spread
And soup prepared of bullock's marrow
Pour'd in each plate profuse - But shallow:
The fox began to lap in haste
And made a plentiful repast,
Pressed his fair friend to do the same
And to encourage, lap'd again.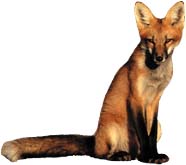 The Crane be sure with her long beak
Could not a single morsel pick:
She felt the bite -- but little said
And very soon her exit made;
Just beg'd the fox would come next day
And sup with her in her plain way: