No flag-waving cheered Lafayette as he left France for his fourth and last visit to America. Police of the Bourbon King would not permit it. But across the sea other treatment was in preparation.

Eight steamboats, flecked with banners, escorted his ship as it arrived in New York Bay. Throngs on the Battery cheered, Bells clanged, cannon roared. The general disembarked at Castle Garden on a specially constructed stair, decorated with flags and laurel. At the City Hall Mayor Paulding welecomed him as one of Americaa's honored parents.

The next day, while the new song, Lafayette's Welcome, was being sold in the streets, it was proposed that the Common Council request Lafayette to sit for a portrait to hang with the full-length portraits of Washington, Clinton, Jay, and Hamilton in the City Hall. In the enthusiasm of the moment the Council agreed.

While Lafayette toured the country, adding to the amazing number of plates-from-which-he-ate and beds-in-which-he-slept, artists scrambled for the honor of painting him for the city. Vanderlyn, J.W. Jarvis, and James Herring made formal requests to the Council for the privilege. Others soon enetered the contest: Sully, Waldo, Inman, Ingham, and Morse.

Morse had come to try his luck in the city again. His painting room was again in lower Broadway, near where his mother was born on Wall Street.

In the scramble for the Lafayette commission his advantage was his facile sociability. While only in one period of his life is his record essentially a story of friendship - the period when he was to be with Cooper in Paris - nevertheless he was eminently sociable. He cultivated his brothers' and parents' friends. He knew the artists of the city better than most of those who had been there for years knew each other. Anyone who could prove himself a companion to the sparkling Allston, the moody Coleridge, the scholarly Silliman [Silliman's wife was the great granddaughter of General John Schuyler], and the erratic Percival could make himself agreeable in the drawing-rooms of New York's merchants, the leaders of city society. Their standards of public and private morality were like his own. Their social tastes were aristocratic and their political tastes, often enough, conservatively Democratic, as were his. Their homes provided the background for the intellectual and artistic life of the city, for the poets Hillhouse, Halleck, and Bryant, for the novelist Cooper and the young author Dana, for the critics Dunlap and Verplanck.

Hillhouse had introduced him to Isaac Lawrence, a wealthy merchant, when Congress Hall was being exhibited in New York. Through Hillhouse, Morse had painted Lawrence and his father-in-law, Dr. Beach, and had come to know his son, William Beach Lawrence, the future expert on international law. It was through Isaac Lawrence, as Dunlap records it, that Morse found favor in the eyes of the Common Council. Through Lawrence Morse came to know Philip Hone, the retired auctioneer, who already owned Morse's portrait of Chancellor Kent. Philip Hone was a member of the Common Council committee for receiving Lafayette.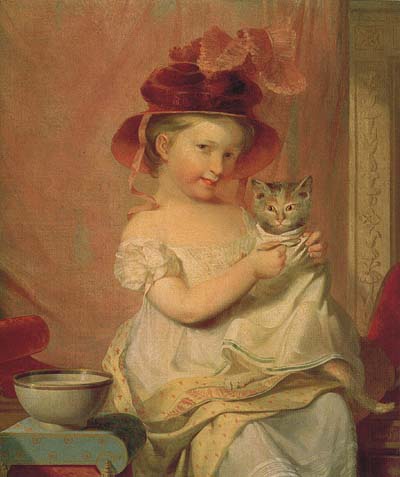 Just the last month before the decision on the commission was made,Morse was painting the daughter of Philip's brother Isaac. "I am engaged in painting the full-length portrait of Mr. Hone's little daughter," Morse wrote home, "a pretty little girl just as old as Susan....I shall paint her with a cat set up in her lap like a baby, with a towel under its chin and a cap on its head, and she employed in feeding it with a spoon." And so he did, in a delightful painting that Horatio Greenough compared to Sir Thomas Lawrence's work. At the same time he was painting the wife of Elisha King, also a member of the Common Council and a member of the Lafayette committee.
Presently Morse heard that he had been chosen to do the Marquis's portrait. He was to be paid at least $700 and perhaps $1,000, and was to goto Washington for the first sittings. Without knowing the truth of his words, he wrote home: "The only thing I fear is, that it is going to deprive me of my dear Lucretia."
In January 1825 it seemed at last possible for him to think of a home for his wife and children. "When I consider how wonderfully things are working for the promotion of the great and long-desired event - that of being constantly with my dear family - all unpleasant feelings are absorbed in this joyful anticipation, and I look forward to the spring of the year with delightful prospects of seeing my dear family permanently settled with me in our own hired house here." It was bad enough to be away from Lucretia at all; but in addition the family complained of her being in New Haven. "The whole arrangement of your two families at one in New Haven," brother Richard declared, "is a bad one, & the evils inevitable." A way out was at last in sight.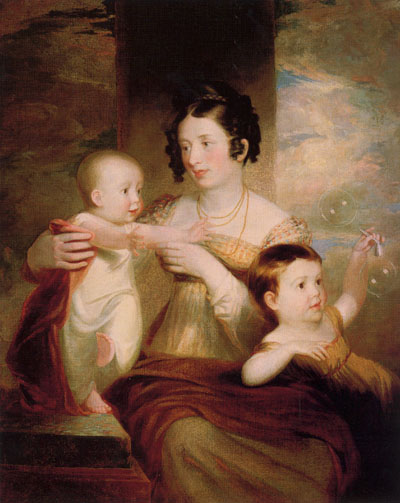 At the end of the month he was at home a few days with Lucretia and her new-born baby, "Fin." He read aloud to his wife from a biography of Lafayette. Mother and child were doing well.
Morse reached Washington on February 7 and took a room in the same hotel with Lafayette - Gadsby's. That day Dr. Morse wrote him: "Your dear wife is convalescent. We shan't hurry her from her chamber at this season - the children all continue as hearty & playful as when you left them....We suppose you begin the Marquis to-day."
That afternoon Lucretia rose as usual to have her bed freshly made. She spoke cheerfully of soon being with her husband in their own house in New York; and getting into bed again, she shuddered a moment and lay back on her pillow. In five minutes, just as Dr. Morse came into the room to pay his usual visit, she was quietly gone.
The next day, Tuesday, Morse called to see Lafayette. Finley remembered he had heard that his features were poor: a slanting forehead, bulging eyes, a bulbous nose. No! They werre noble! Features and character accorded perfectly. They both showed, he thought, just the firmness and consistency for which he was distinguished. "This is the man now before me, the very man," he thought, as he wrote his dead wife, "who suffered in the dungeon of Olmutz; the very man who took the oaths of the new constitution for so many millions, while the eyes of thousands were fixed upon him (and which is so admirably described in the life which I read to you just before I left home); the very man who spent his youth, his fortune, and his time, to bring about (under Providence) our happy Revolution; the friend and companion of Washington, the terror of tyrants, the firm and consistent supporter of liberty, the man whose beloved name has rung from one end of this contenent to the other, whom all flock to see, whom all delight to honor; this is the man, teh very identical man!"
He almost melted with emotion as the General shook his hand and said: "Sir, I am exceedingly happy in your acquaintance, and especially on such an occasion." They agreed to meet the next day for breakfast and the first sitting.
The second day after his wife's death, still unaware of it, he passed a gay evening at the President's levee. The votes in the election had been so split among Jackson, Crawford, Clayk, and John Quincy Adams that none had a majority, and the choice had been thrown into the House. And the House vote had been close - so close, in fact, that, as Van Buren's story goes, the election of Adams was uncertain without the aid of the aged Congressman Van Rensselaer. As the balloting began he had not yet made up his mind. He prayed, opened his eyes, saw a discareded Adams ballot at his feet, and, considering it a sign of God, voted for Adams. [This was the Stephen Van Rensselaer known as the "Old Patroon." He was Henry's brother Gilbert's nephew.] At the White House levee Morse congratulated Adams; he could easily see that the President-elect was in high spirits. He noticed that General Jackson went up to him and cordially shook him by the hand. Jackson, he thought, bore his defeat like a man. Vice-President-elect Calhoun was there, too, and of course the Marquis.
Morse's stay in Washington was nearly over when he received news of his wife's death. Lafayette told him that no one could sympathize more than he; he too had lost a young and beautiful wife.
The next day Morse left for home. In New Haven he found that the funeral had taken place several days earlier, and that his wife's body rested beside those of two of her five children.
Again and again her husband had told her the Lord had given her to him, and the Lord would take her from him in His own good time. He had pleaded that each might be willing to close the lids of the other calmly, even cheerfully, believing that eternity opened before them together. Still her sudden going was not easy for him. The family trembled as it watched him struggle to regain his poise. When he found among her papers and in her diary fresh evidence that she had faith and was "prepared" to die, he was somewhat consoled. But even then his brothers feared that he was abandoning himself too freely to grief.
Leaving his motherless children to Nancy and their grandmother, he returned to New York. The balm of work served him well. Orders flooded upon him - perhaps because men realized that his need for work was more urgent now than his financial need had ever been. He continued his sittings with Lafayette when the Marque was in New York being feted by the new mayor, Philip Hone.